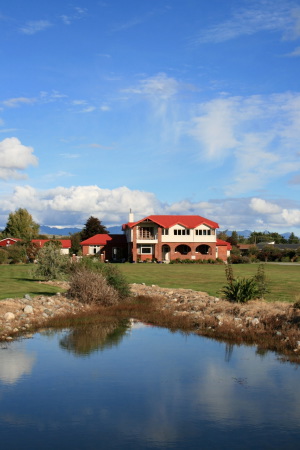 We are delighted to offer you a unique opportunity to come and stay with us here at Te Anau Lodge, our lovingly restored former convent.
At Te Anau Lodge we have endeavoured to create an atmosphere which is homely, warm and inviting, where you can relax and unwind, in the company of others or in the solitude that you may be seeking.
Built in 1936, and relocated to Te Anau from nearby Nightcaps, the former Sisters of Mercy Convent is positioned at the northern end of Te Anau Township, surrounded by breathtaking lake and mountain views. The location of the lodge is quiet and tranquil, yet only 15 minutes walk to the centre of Te Anau township.
The Lodge has been lovingly restored with the interior still including the original oak paneling with rimu battening and polished timber floors and a number of unique architectural and design features of its era.
You may wish to unwind in Te Anau Lodge's Library, with wonderful views of Lake Te Anau and the Murchison Mountains- home of the Takahe- one of New Zealand's rarest and most elusive birds.
Leisurely breakfasts are served in the former Chapel, with its stained-glass feature windows, and there is always tea, coffee and cake in the Library. Wandering through the gardens, watching the sunsets and stargazing are popular guest pursuits.
However you choose to spend your time here with us, the most important thing is that you make yourself feel at home and we are always here to help make your holiday special with our local knowledge.
Full breakfast served in the Chapel
Guest library with open fire, tea/coffee, nibbles, TV, dvd, video, reference library, games with stunning lake and mountain views
Courtyard with BBQ facilities and star gazing
Refreshments complimentary
Hairdryers, toiletries, heated towel rails and demist mirrors
Phone and wi-fi complimentary
Laundry facilities and luggage storage
Guest mountain bikes
Credit card and Eftpos facilities